Patio and Deck furniture
Enjoying the beautiful weather on your deck or patio is a great way to relax. That wonderful breeze caressing your skin just feels awesome. Stretched out on your patio chair sipping on your favorite beverage or just waiting for that grilled barbecued steak you ask yourself... Will this suffice? Is this patio furniture that I had for X amount of years still be good enough to entertain my guests and family today? Should I upgrade? If I do, what should I get? What kind of material is best for my area? What color would go best with my decor? The list goes on and on...
Thankfully I have gathered for you the best outdoor furniture selection that you can find today. There are some for every budget. They differ in shape,color, style, make and size. Some are designed to blend in with the environment while others are made to stand out. You can choose between aluminum, wrought iron, wicker, plastic, wooden chairs, benches and tables.
Romance wrought iron patio dinette set with orange seat cushions.
Beautiful St Augustine wrought iron outdoor furniture with orange cushions
Elegant furniture design in wrought iron made to withstand
the elements and bring outsatnding decor and comfort inside and out.
Contemporary aluminum patio furniture.
A dinette set that will enhance any deck for ultimate relaxation.
Corner deck light brown patio furniture
White Bysteel's contemporary outdoor furniture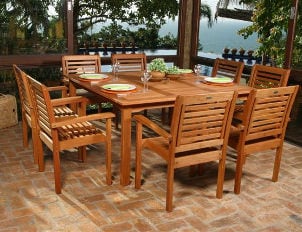 Beautiful wood outdoor dining set.
Wood outdoor patio furniture with cushions
Sedona wicker patio furniture with green cushions
Wicker outdoor furniture by the lake
Contemporary wicker black and white outdoor furniture set
Contemporary outdoor patio/pool side furniture with black cushions and umbrella
Westminster Woven Madrid Range outdoor furniture with umbrella